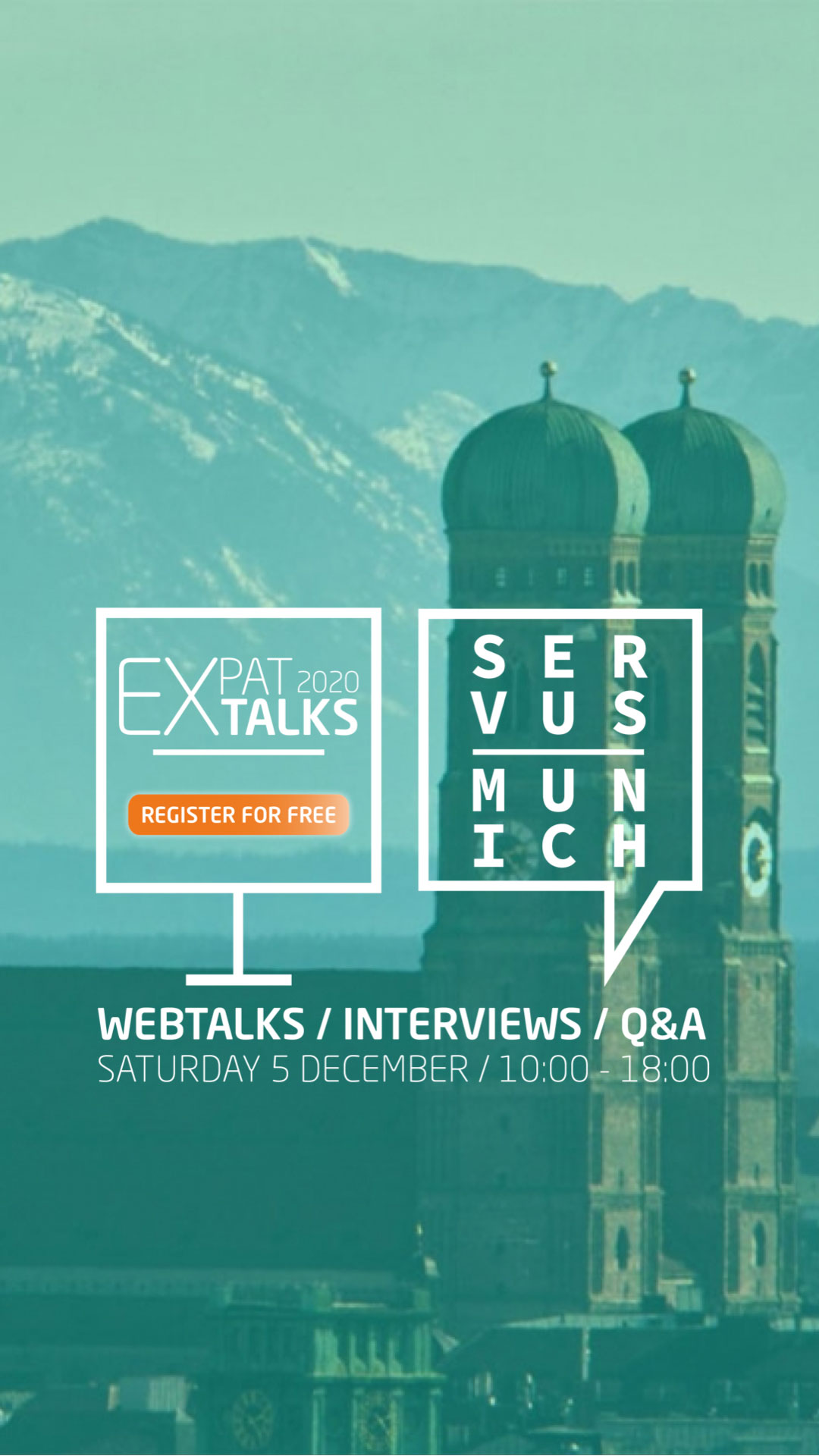 ExpatTalks2020: Servus Munich!
- 5 December 2020 - 
One day of webtalks, interviews and Q&A's
for new, not-so-new and expats to-be in Munich
ExpatTalks2020 "Servus Munich!" is a new online studio streamed format on varied topics related to expat life
in Munich and our creative answer to having to cancel our Expat in the City Fair 2020 at BMW Welt due to Covid19.
"Servus" is a friendly Bavarian greeting for "hello or welcome!" and can also be used as "goodbye".
For now, together with our trusted partners, we want to use it to welcome new and not so new expats in the city
as well as give a sneak-peak to those who are considering to move to the beautiful Bavarian capital.
In addition to expat life being a challenge on its own, the year 2020 has been a challenging one for everyone
and we are all transitioning into a 'new normal'. That's why our experts are here to support you with general information
about expat life in Munich but also to share how they can help you, and answer your questions related to Corona.
SCROLL DOWN FOR THE PROGRAM 
Register Now 
Program ExpatTalks2020: Servus Munich! 
Servus Expats of Munich! 
Opening ExpatTalks2020: Servus Munich!
by Clemens Baumgärtner, Head of the Department of Labor and Economic Development of the City of Munich.
Experts from the Department of Labor and Economic Development of the City of Munich answer your questions 
Christoph Haider, Head of Location Marketing and International Business Relations
Martina Dafinger, Acting Head of AMIGA Project
10:00 – 10:30 Expat Talk
10:30 – 11:00 Live Q&A
Your questions about health insurance in times of Corona answered
Jörg Reichert, Onboarding Consultant at TK
11:00 – 11:30 Expat Talk
11:30 – 12:00 Live Q&A
Insights & tips from global locals
With several expats from the City
13:00 – 13:30 Expat Talk
13:30 – 14:00 Live Q&A
How to go from a green zero to a green hero as an expat in Munich
Comedian and author Mel Kelly
14:00 – 14:30 Expat Talk
14:30 – 15:00 Live Q&A
Financial planning for expats in Germany
Martina Chalar, Co-founder HORBACH Expats
15:00 – 15:30 Expat Talk
15:30 – 16:00 Live Q&A 
5 reasons why an international school works harder for your child's success
Dr. Chrissie Sorenson, Head of School & Executive Board of Bavarian International School
16:00 – 16:30 ExpatTalk
16:30 – 17:00 Live Q&A
Learn how to be balanced in challenging times
Ulrike Homuth, Health- & Lifestyle Coach
17:00 – 17:30 Expat Talk
17:30 – 18:00 Live Q&A